Price = 5-10$
Players = 1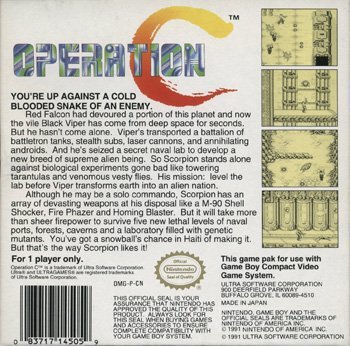 HOW DOES THE GAME LIVE UP TO IT'S EXPLANATION/BOX ART? (10/10)
CONTRA!! …. by ULTRA?… huh..? Single player? What?
Well If you know that Konami releases Contra these questions might linger in the thought process of purchasing this title. But let me tell you, that this box information does not take away from Contra on the Game Boy.
You are a man named Scorpion, not that it really impacts the game play at all, and you are shooting the normal baddies from the other games. So.. this box gets a super 10 thumbs up.
HOW IS THE GAME PLAY? (9/10)
Now.. for the most part Operation C plays just like all the other Contra games. But, the repeating of areas gets a little annoying. What I mean by repeating is… There are a lot of places in the game you will see the same platforms and design work over and over again. This doesn't really make you sad at all, but it does get a little boring seeing the same backgrounds/areas over and over. In titles like this, knowing your scenery can save your butt from upcoming bullet attacks, or baddies jumping up your backside.
Other than that complaint, the title is pretty solid. It's also a very inexpensive Contra title. I'm not sure if that's because it's not a Konami release, or if it's just because it's on old school Gameboy. A lot of rare, and excellent games on this system are close to nothing. Which is good for the consumer. .. And honestly in my mind.. How they should all be in the first place. 🙂
HOW DOES THE GAME LIVE UP TO IT'S GENRE? (10/10)
Like I said, it plays just like all the other Contra titles. Run… Gun… Avoid…. REPEAT!
If you aren't any good at the other Contra games, this one is a bit easier.. But you still only get that 3 lives. So if you aren't careful, you are dead. Oh yeah.. No CONTINUES!
THE 'GAME OVER' ALL? (97%)
I've always been a fan of Contra. They've never really broke my heart on any of the titles. I'm satisfied and pushed to the limit on difficulty. But, that sort of thing always keeps me starting over. Which is what's good about old titles in comparison to the newer titles. If your game is only a couple hours long outside the video cut scenes. Then drop all these Check Points and save spots.
Gamers are becoming wussies these days.
But, about the game. From beginning to end. Spread shot is your friend (as always), and there are bullets firing out of anything that can shoot. Then the always huge surprise of aliens? Oh yeah! THIS IS CONTRA!
arbitrary credit for gore and nudity = 0
-Felix "the Brett" Prescott