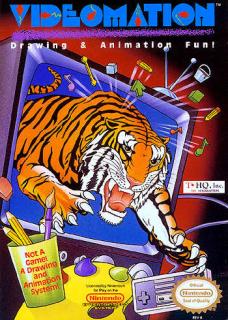 Game Price = 5  (box = 5-10 / Manual – 1-5)
One player
HOW DOES THE GAME LIVE UP TO IT'S EXPLANATION/BOX ART? ( N/A )
According to the box. "NOT a game, a drawing and animation system"
I can't really rate it as a game So this category doesn't really apply.
HOW IS THE GAME PLAY? ( 8/10)
There isn't really any game play. It's an art studio. So if you didn't have a computer at the time with the program MS-PAINT or any other variant, Videomation could have been a fun choice.
It has several options of things you can do with it, and a small amount of colors to paint with. It seems to me that they spent more time adding in "stamps" and silly GIF style animations before giving a lot of options for artwork. But, It is a very old program, so it isn't completely rate-able for that.
The only other games / not games on the NES are Color a Dinosaur which is just terrible, and Tiny Toons cartoon Workshop, which is similar but not the same.
If you were a kid and wanted to make art on your nintendo this is a pretty cool feature. Not as good as Nintendo's Later release of Mario Paint on the Super Nintendo, but not completely terrible either.
If you watch the video play through I did. I rate the game as bad, because in this day and age. It's pretty bad in a worthless sense of the word. But, back in the day, this would have been a neat way to make some artwork. And since this is the only Rate-Able area for the game it doesn't score too bad at the end of the review.
HOW DOES THE GAME LIVE UP TO IT'S GENRE? (N/A)
Again this is not a game, and like I said the only things to compare it to are Tiny Toons Cartoon Workshop and Color a Dinosaur.
These two titles are also not games, but aren't fun in this day and age either. But, I'll get to those two at a different period of time.
The Game 'OVER' ALL? (80%)
I know I am still using my 4th category The Game 'Over' All, but since this isn't really a game. I'm rating it more on Accessory title. There are tons of accessories on the NES that are just awful, and beyond awful. Cool thoughts if they would have functioned properly, but most of them do not work at all, or work so poorly you give up.
And, Like I said, it doesn't score bad at the end of the day.. It does work pretty well for what it is in comparison to some other things.
Above all, It functions.
You can't really save the stuff you worked on, or have a mouse to control stuff (You use the controller),  which is what makes this not that exciting. But, it's still pretty neat in comparison to junkie clunky accessories (And COLOR A DINOSAUR)